Even though solar energy has been used for a long time, it has become popular only in recent years. It's a clean and renewable resource that's less expensive for most homeowners. Since California is the 5th sunniest city in the United States, it only makes sense for homeowners living there to utilize the solar energy they get throughout the day.
But even if you have the best quality solar panels installed at your house, without proper maintenance, they won't provide efficient results.
That's why our solar panel cleaning experts have put together a comprehensive guide to maintaining solar panels to help you out.
Regular Inspection And Cleaning
It's best to plug out all the connections before your start inspecting the solar panels and their battery. Look for any kind of damage, cracks, or leakages.
Battery terminals can often have corrosion buildup in the form of white coating. You can use a damp piece of cloth to clean that up. If that doesn't work, you can use baking soda to clean the corrosion buildup.
Furthermore, it would help if you also cleaned the solar panels to get rid of dust and debris. But remember not to use any detergent during cleaning because clean water will do an efficient job.
Battery Voltage
The battery is usually installed in your garage or your house. Make sure that the battery voltage is high at all times. It needs to be fully charged to function properly. You can use a voltmeter to measure the charge.
Maintain Electrolyte Level
Lead-acid batteries give a flawless performance on high electrolyte levels. That's why you need to ensure that they're working at an optimum level to ensure increased productivity.
Get Rid Of Feral Pigeons
Birds and pigeons often take up residence on the roof, causing integral damage to it. Although you may not notice a few bird droppings, these acidic elemennts can cause significant damage, causing solar panels to be less efficient. So, it's best to hire bird abatement services to eliminate the birds and pigeons.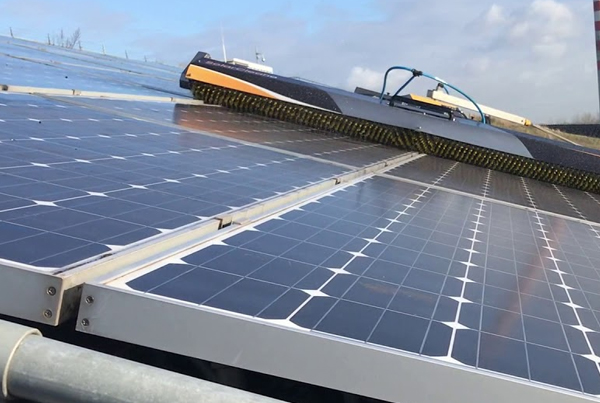 Let Our Experts Clean Your Solar Panels In Modesto, CA
At Bird's Cleaning and Gutter Windows, we offer solar panel cleaning services to increase the efficiency of solar panels for homeowners who rely on solar energy in California. Our experts use cost-effective products to minimize the damage and increase your panel's productivity.
We also offer bird abatement, power washing, and moss removal services. Get in touch with us to learn more about our services.