As per a survey, almost 50 percent of individuals in the United States showed interest in getting solar panels installed in their homes. This is because solar panels allow you to save a good amount of money on your utility bills. Experts have predicted 2.5 percent of the homes in the United States will have solar panels installed by 2024.
Getting a solar panel installed isn't difficult. You can hire a professional, and they'll do it within a few hours. The maintenance part is where you have to put in the effort. Cleaning the solar panel regularly is very important to let it work efficiently. Ideally, you should clean your solar panels twice a year at least. Here are the reasons why.
Lower Energy Efficiency
A cleaner solar panel is the most efficient energy panel. Dirty solar panels are 10-30 percent less efficient and produce lesser energy. This is because the more sunlight the microinverters get, the more solar energy they will convert into electrical energy.
Dirt and Debris Can Accumulate
A solar panel isn't covered by anything and directly faces the sun to obtain maximum sunlight. Over time, dust can accumulate on the solar panel and block the sunlight reaching the microinverters, resulting in a loss of energy that can be converted and used for your house.
Moreover, bird droppings and other debris can accumulate on the solar panels and block the sunlight from reaching microinverters. Bird droppings can also damage the microinverter since it has liquid. A damaged microinverter fails to pass current, resulting in a loss of efficiency for your solar panel.
Dirty Solar Panels Void Warranty
Most of the companies offering solar panels also give warranties for their products. If your solar panel gets damaged for any reason, you can claim a warranty for it if it hasn't expired.
However, every solar panel company demands that the solar panels be regularly cleaned and kept in a neat condition for the warranty to be applicable. Dirty solar panels void the warranty and replacing a microinverter, or a solar panel can cost you a lot.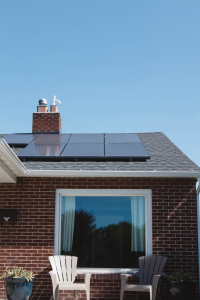 Cleaning your solar panels yourself is a hassle and a safety risk since it's on the roof. Moreover, you are not certified to clean the solar panel and can damage it. This is why hiring professional solar panel cleaners is a better idea
Bird's Windows and Gutter Cleaning offers solar panel cleaning services in Modesto, CA. Our professionals are trained and experienced to handle solar panel cleaning jobs with utmost delicacy and precision. We also offer window cleaning, roof cleaning, pressure washing, and more. Contact us now to learn more about our services.